Help Empower Women and Families to
Escape Poverty — For Only $1 a Day!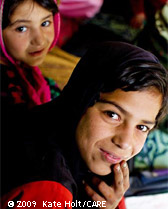 Every day of the year, CARE helps women, their families and communities transform their lives through our poverty-fighting and disaster-relief programs. But empowering change in poor communities requires a long and lasting commitment. You can help us with our daily fight against poverty by joining a special group of CARE supporters — Partners for Change.
Partners for Change is an efficient and easy way for you to fight global poverty every day. By making an automatic tax-deductible gift each month on your credit or debit card, you provide strong and steady funding to help those who need it most around the world.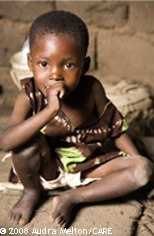 Only $1 a day as a Partner for Change can:
Help children beat malnutrition and stay healthy through programs that improve the livelihoods of poor families.
Help communities establish clinics and immunization campaigns to stop needless deaths from common, preventable diseases.
Help families build new wells and sanitation systems for safe drinking water.
Help make it possible for poor children to go to school, so they can fulfill their dreams and escape poverty forever.
As a Partner for Change, you'll also enjoy the following benefits:
You'll receive monthly stories and photos of women and families that your gift has helped.
You'll be invited to attend exclusive conference calls with CARE's president and special guests to hear about CARE's work and priorities.
Convenience — we'll automatically charge your credit or debit card each month in the amount you specify below.