Paige's Giving Tuesday Page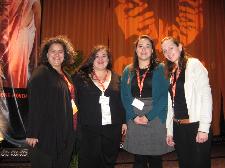 Team Fundraising Goal: $250.00
Total Number of Gifts: 7
Total Value of Gifts: $180.00
Please bookmark this page.
Recent Donors
Paige Miller
Stephen A Borrelli
Paige Miller
Kay Mutert
Jonathan Ross
Suzanne alexander
Cathy Andreen

Full Donor List
Thank you for visiting my CARE fundraising page! Many of you know that I've been a volunteer for CARE for several years. CARE works to end poverty around the world with an emphasis on women and girls. Empowering women and girls around the world is so important to me since I've had the opportunities in U.S. to get an education and work for women's rights here at home.
Your donation supports CARE's global mission and activities, rather than providing a particular initiative or item. CARE finds lasting solutions through community-based efforts to improve basic education, help people receive quality health care, increase access to clean water and sanitation, expand economic opportunity, protect natural resources and more.
---
If you think this page contains objectionable content, please inform the system administrator.